Founder and Artistic Director until 2014. KAMMER KLANG is a new music series that creates a platform for collaborators across the contemporary classical, electronic and improvised scenes. It began in 2008 with the idea to perform for audiences in an informal context.





Click on the SLIDE SHOW below to see a selection of posters:


HISTORY: KK began at Charlie Wrights International Jazz Bar in Old Street and in 2010 moved to Cafe Oto in Dalston. Since then it has presented more than 20 conerts to a broad and ever growing audience.

www.kammerklang.co.uk

ICA - Notation and Interpretation LiveWeekend 2011 featuring music by Kagel, Cage, Shlomowitz, Christian Wolff, Feldman. An exhibition of scores tracing the development of notation. In collaborative curation with Lumin and Chimera Productions.




HALAS Radio documented it HERE

To display some of the scores featured in the exhibition we asked Jamie Elliott of JAILmake to design and build a table based on the scores of Christian Kesten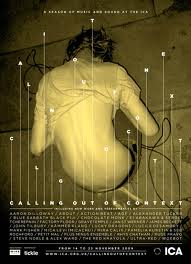 ICA - Calling out of Context Fesitival 2009